When psychology Ph.D. students are applying for internship experiences, they may shoot for the moon—but they don't often think of turning to NASA.
As a summer intern with the Office of Naval Research at NASA Ames in Moffett Field, Calif., 2014 Saint Mary's undergraduate psychology major Ellie Niedbala has been involved with helping astronauts and military personnel learn to deter motion sickness and stress. And, she's working to both recruit and retain more women to NASA Ames.
Looking back at her career path, Niedbala knew by sophomore year that she had a love of psychology but she wasn't sure exactly what area she wanted to pursue.
Undergraduate experience
As an undergrad, she shadowed a school psychologist in the Winona Area Public Schools system. "I was counseling students, learning about different therapies, and evaluating their cognitive abilities," she said. "I loved the internship, but that experience showed me that I didn't want to go into therapy or clinical psychology. I wanted to go into research."
By senior year, she joined Dr. Elizabeth Seebach's Body Image Lab where she and a group of students designed a survey, administered it, analyzed the data, and presented the findings at a conference in Washington, D.C.
"That gave me a taste of the research process from beginning to end—which is exactly what I do now—so it was really beneficial," she said.
Niedbala credits her professors with supporting her and helping her determine the right career path. After graduating from Saint Mary's, she was accepted into a Ph.D. program in experimental social psychology at Texas Tech University.
Graduate study
At Texas Tech, she is specializing in group processes or behavior, specifically group conflict, inter-group violence, and stereotyping.
It's a subject particularly interesting in today's society. Eventually Niedbala would love to work in government or in a military research lab. "I am interested in doing big data analysis of terrorist activity, or working in a research lab with military personnel—training them or studying group processes and how that relates to their initiatives," she said.
Interning at NASA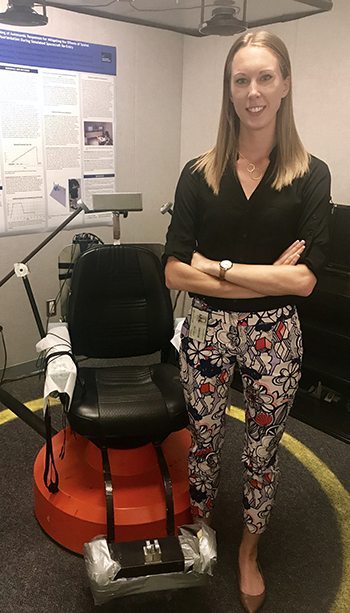 Part of the time, she is working in a psychophysiological lab in the human systems integration division with Dr. Patricia Cowings, who trains astronauts and military personnel to inhibit motion sickness and stress, which can be disruptive during military or space missions.
"She teaches them to control their physiological processes using autogenic feedback therapy that she designed," Niedbala said. "Over several training sessions, her participants learn how to voluntarily control 24 physiological responses including heartrate, body temperature, blood pressure … so that while they are in flight or on a mission, they are able to reduce the symptoms of malaise. Or in an emergency situation, they have better control over their stress response and are better able to respond in crisis."
Niedbala said she hooks participants up to physiological sensors and takes their vitals before and after they sit in a special rotating chair, which can spin at 30 rpm.
"With more training, participants are able to tolerate longer rotation sessions with less severe symptoms," she said.
She then compiles the data, analyzes it, and displays it visually in graphs to track improvement.
Outside of that lab, she is also working on initiatives to increase female representation in STEM positions at NASA Ames. "STEM fields have historically had extremely low proportions of females, so we're designing an action plan to increase the number of women applicants, and using a couple of specific strategies," she said. The first is to identify universities with above-average representation of women in STEM. The second is to evaluate specific language usage in web content and job descriptions.
"The language used in job postings has an effect on whether a woman will want to apply," she said. "Often there is a lot of masculine wording—like 'dominant' and 'competitive,' " which may cause women to be less attracted to those positions. We're looking deeper into the language and making recommendations to the recruitment teams."
On a related project, she is serving on a task force working to install more nursing rooms at NASA Ames. "NASA values diversity and inclusion by providing more facilities for new mothers," she said. "We're surveying buildings, talking to mothers, and finding out where there is available space to install more nursing rooms in the future. Hopefully we're helping with recruitment but also the retention of females here at NASA."
Niedbala said she is loving her summer experience. "I still can't believe I'm here," she said. "It's a great experience and very motivating to be in this environment, where everyone loves what they're doing."