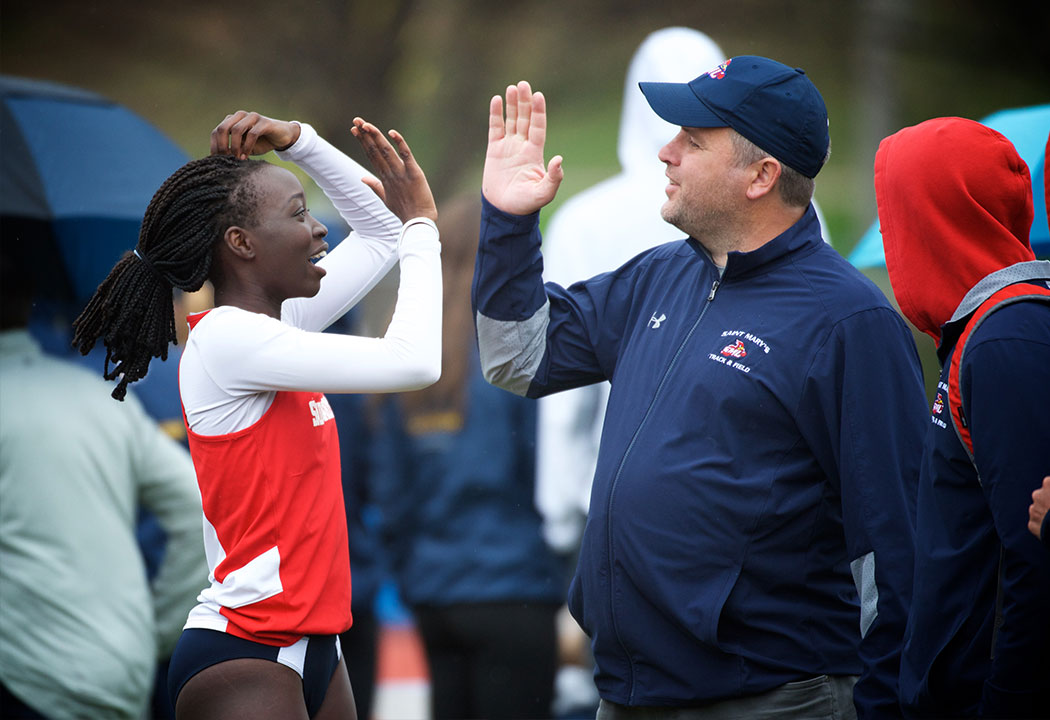 By Donny Nadeau
Saint Mary's Sports Information Director
WINONA, Minn. — Saint Mary's University track athlete Becca Dup may not be able to leap tall buildings in a single bound like Superman, but she certainly can leap past her fellow competitors in a single — or sometimes triple — jump.
By day, Dup may seem like your average psychology student. But, on the track, her alter ego strikes fear into the hearts of competitors throughout the nation.
This weekend, the mild-mannered Dup will call upon that alter ego to propel her to greatness, as "Super Duper" — sans cape — makes her third straight national championship appearance, taking part in the NCAA Division III Outdoor National Championships at UW-La Crosse's Veterans Memorial Stadium.
But this year, the junior Cardinal athlete will need to call upon all of her super powers, as she will be competing in not one, but two events on the nation's biggest stage.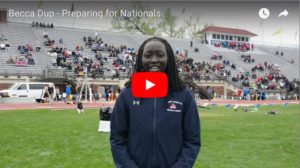 "Qualifying in both the long jump and the triple jump makes this year's NCAAs even sweeter," said Dup, the reigning MIAC outdoor triple jump champion — not to mention the 2018 conference title-holder in both the indoor long and triple jumps. "I'm driven to go out there and do my best. That's all I can really ask of myself."
Dup has overcome many obstacles in her life.
Although she grew up in Albert Lea, Minn., her family — mother, father, and two older sisters —escaped on foot from South Sudan in East Africa when war broke out. After spending time in a refugee camp, the Dup family came to the United States, where Becca (born Nyakume Dup) was born.
"It was difficult growing up bi-culturally, because when I went to school it was English and American culture, but when I went home, it was my native language and South Sudanese culture," admitted Dup. "Growing up, it was like living two different lifestyles. The most difficult part of being a Sudanese-American athlete is trying to explain to my parents what exactly being an 'athlete' is because sports were never a part of their culture."
While her parents may struggle to understand what an athlete is, Dup's uncanny leaping abilities, not to mention her prowess on the soccer field, have left little doubt that she is a skilled athlete.
Dup originally came to Saint Mary's to play soccer and had never even competed in either the long or triple jump before in her life. That all changed, however, when Dup met Saint Mary's track and field coach Niels Anderson during the fall of her freshman year.
"Coach (Neil) Cassidy recruited me to come to Saint Mary's to play soccer," said Dup, who owns 11 goals, 8 assists and 30 points in 48 games during her three years as a member of the Cardinal women's soccer team. "Track came into the picture as soon as I met Niels. Right away he told me what he thought my potential could be as a track athlete, and specifically, as a jumper.
"He told me I could be a national qualifier in the long jump. I thought he was crazy, because I had never even jumped before."
Anderson was far from crazy.
In fact, he is proving to be a real-life psychic.
After finishing sixth in the long jump at her first conference indoor meet, and scratching on all three of her attempts at the MIAC outdoor championships, Dup hit her stride — so to speak —and her jumping career really began to take flight.
Over the past two seasons, Dup has claimed five conference long and triple jump titles, is a four-time USTFCCCA All-Region selection, and heads into this weekend with the eighth-best triple jump performance (11.83 meters) and the 15th-best long jump effort (5.74 meters) —both school records.
All this from an athlete who had NEVER competed in either event prior to arriving at Saint Mary's.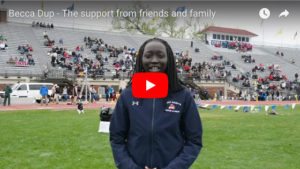 "I had never even watched the events before," Dup said. "I was always just the fastest runner at school, so they made me a sprinter. But Niels saw something in me and believed that with my natural talent, I could do great things as a jumper, so we worked hard at it, and that hard work has really paid off."
Now that's an understatement.
With a pair of national championships under her belt — a 17th-place showing in the triple jump at the 2017 outdoor championships, and a ninth-place effort in the triple jump at the 2018 indoor championships — Dup is determined to continue to climb up the podium steps.
A finish of eighth place or higher, and the All-American honor that goes with it, is Dup's No. 1 focus.
"Placing ninth and missing All-American by one place finish at my second NCAA appearance was the kind of heartbreak I needed to drive me this time around," said Dup. "Although placing ninth in the nation is incredible, it motivates me to be better and, hopefully, move up into that Top 8 this time around.
"Knowing that I was so close is what pushes me everyday."