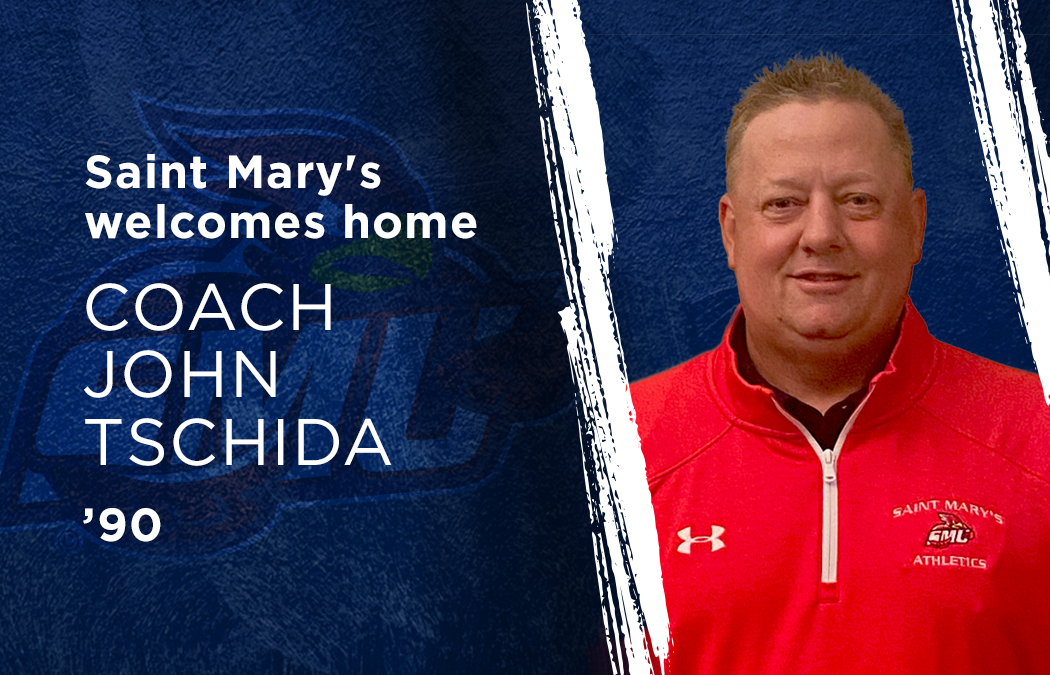 John Tschida '90 is rounding third and heading home to Saint Mary's University of Minnesota.
Tschida, hailed as the coach with the highest winning percentage of all NCAA Division III softball coaches, is returning to his alma mater — where he FIRST led his fastpitch team to a national championship in 2000.
Beginning June 1, Tschida will serve as head coach of the Saint Mary's Cardinal fastpitch team, a position he held from 1995 to 2000, in addition to serving as assistant baseball coach from 1990-1994. Tschida most recently coached at the University of St. Thomas, where his winning tradition continued with seven more national fastpitch championship appearances and two other national titles (in 2004 and 2005).
Tschida returns to Saint Mary's for a number of reasons, including the fact that St. Thomas is moving to NCAA Division I. "I love the Division III atmosphere; it's the culture I grew up with, and I appreciate the relationships you develop with student-athletes in this division," he said. "I enjoy the Division III philosophy of developing a lot of different levels of players and watching them grow as people and as players.
"Saint Mary's, of course, is my alma mater, and I have a nephew (Nick Winecke '07) coaching baseball there, so I'm still connected," he added. "It is appealing to be able to coach there and be around family again. Saint Mary's has done a great job of valuing the educational component outside the classroom that athletics provides and has invested the required resources needed to provide the student-athletes with a great experience. I've seen the changes, and they've done a great job of stepping up their game. They're on the right path, and it's exciting to see what we can accomplish."
Tschida brings with him a remarkable overall 27-year coaching record of 999-193. He's just one game away from being one of only 25 active NCAA softball coaches to reach 1,000 victories.
"I feel winning is a by-product of having disciplined student-athletes who take pride in what they do, on and off the field," Tschida said. "With having coached 43 All-Americans, I am continuously amazed that nearly all of them also achieved Academic All-American status. Better people make better Saint Mary's softball people.
"I believe athletics is an educational component outside of the classroom. Athletics can lead to more confident leaders, who lead by example on and off the field, in and outside of the classroom. Teamwork, inclusiveness, and fair play are all part of what can make athletics an important part of the growth of our future leaders."
Father James Burns, IVD, Ph.D., Saint Mary's president, is excited to welcome Coach Tschida back to Winona. "Not only do we believe he has what it takes to lead our women to greatness on the field, he'll also develop them as great leaders with strong character and virtues both on and off the field," he said. "When we looked for the very best for our Cardinal athletes, we knew there is no one better than Coach Tschida, and we're grateful to welcome him home."
Brain Sisson, athletic director, shares Father Burns' excitement. "Of course, it's our goal to win games and attract talented student-athletes but also to shape tomorrow's leaders. Coach Tschida will help us do that; his record speaks for itself," Sisson said. "He is a proven winner, mentor, and leader. I have no doubt he will maximize the potential of our student-athletes and staff and help us become a force in the MIAC, regionally and nationally. I also know the relationships he will build with our student-athletes will strengthen our program."
Tschida, voted into the National Fastpitch Coaches Association Hall of Fame, is also a two-time National Coach of the Year and has been named MIAC Coach of the Year in 13 of his 26 seasons at Saint Mary's and University and St. Thomas. In addition, Tschida and his staff have been named the 2014, 2016, and 2019 Division III Midwest Regional Coaches of the Year by the NFCA. He's twice been inducted into the Saint Mary's Sports Hall of Fame, first as the coach of the championship team in 2005 and again for his success as a coach in 2010.
A respected clinician and speaker, Tschida travels the country and the world to promote fastpitch softball and educate fellow coaches on fine points of training and competition. Due to time commitments away from coaching, he turned down invitations by two different countries to coach their national teams in the 2008 Olympics Games.