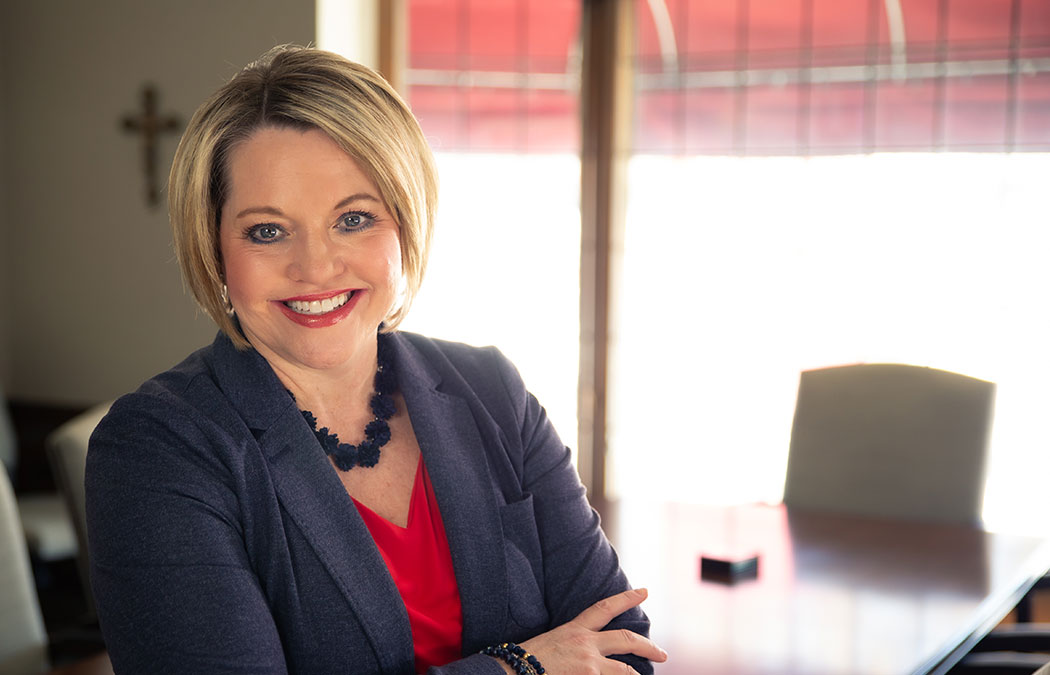 After leaving the corporate world to work in a university setting, it didn't take long for Michelle Wieser, Ph.D., to know higher education was where she would want to spend her professional life.
Wieser — now serving as the dean of business and technology at Saint Mary's University — was recently named one of the 2021 Notable Leaders in Higher Education by Twin Cities Business.
Wieser has spent the past 17 years working at various colleges and universities, which has helped her drive innovation at Saint Mary's for the past two years.
"I think one of the things that has really helped me as I've risen to bigger leadership roles in higher education is that I do have a diverse background working for different types of educational institutions in different roles," she said. "And I've been able to bring all of that with me into my role at Saint Mary's, which has helped tremendously."
Wieser began her work in higher education in 2004 when she took a job at Washington University in St. Louis after spending several years working as a marketing and recruiting professional.
"While I was there, I got bit by the bug, and I knew I would be in higher education from there on out," she said.
After leaving Washington University, Wieser came to the Twin Cities, where she began working for the Carlson School of Management at the University of Minnesota. There, Wieser focused on building partnerships with major employers with the goal of having those businesses hire the school's graduates. She continued on the path of working in higher education, serving in several roles at St. Catherine University, including interim dean for the School of Business.
Wanting to use her entrepreneurial skills to build something from the ground up, Wieser turned her eyes to Saint Mary's.
"My whole philosophy I presented when interviewing here was based on three pillars: strengthen, innovate, and differentiate," she said. "I told a story that I needed to come in as a leader and help strengthen what we already do very well; I need to find ways to innovate, and lastly, we need to differentiate ourselves and our offerings in a way that brings our mission to life."
Wieser says those pillars continue to be her guiding light at Saint Mary's. And she says she has seen success by following the goals set out by those pillars.
Where she has seen the most success with her philosophy is in the area of innovation. Soon after starting at the university, Wieser helped develop the Saint Mary's Accelerators program, a grouping of master's level certificates that can be stacked onto a degree or taken individually. A part of the school's strategic plan, the launch of the program was highlighted in Twin Cities Business' profile of Wieser. She has also spent a large portion of time looking at the School of Business and Technology's majors, courses, and enrollment practices to see how Saint Mary's can differentiate itself from other institutions in the region.
While her previous experience in higher education played a role in the successes she's seen at Saint Mary's, she says the university and its leadership have been extremely supportive of her work that is now being recognized by Twin Cities Business.
"I feel that my leaders have confidence in me to do what's right for the organization, and that's really empowering," she said.
Wieser has also spent a lot of her professional time researching gender and race in business education, which she says sets her apart as a leader in higher education.
"I'm just deeply passionate about diversity and how students make their way to graduate business education and what they achieve after that, how those results differ, and what I can do to help change the world in whatever small way I can," she said.
Moving into the future, Wieser looks forward to addressing the needs of the undergraduate college with the same spirit of innovation that helped her be named one of Minnesota's notable leaders in higher education. For her, that includes continuing to evolve the School of Business and Technology by building connections between the school's undergraduate and graduate programs. She also looks forward to building upon the programs at Saint Mary's Rochester Campus, an area where she sees "endless potential and opportunities."
"I definitely see myself keeping busy and having enough challenge and variety that makes this rewarding for a really long time," she said.