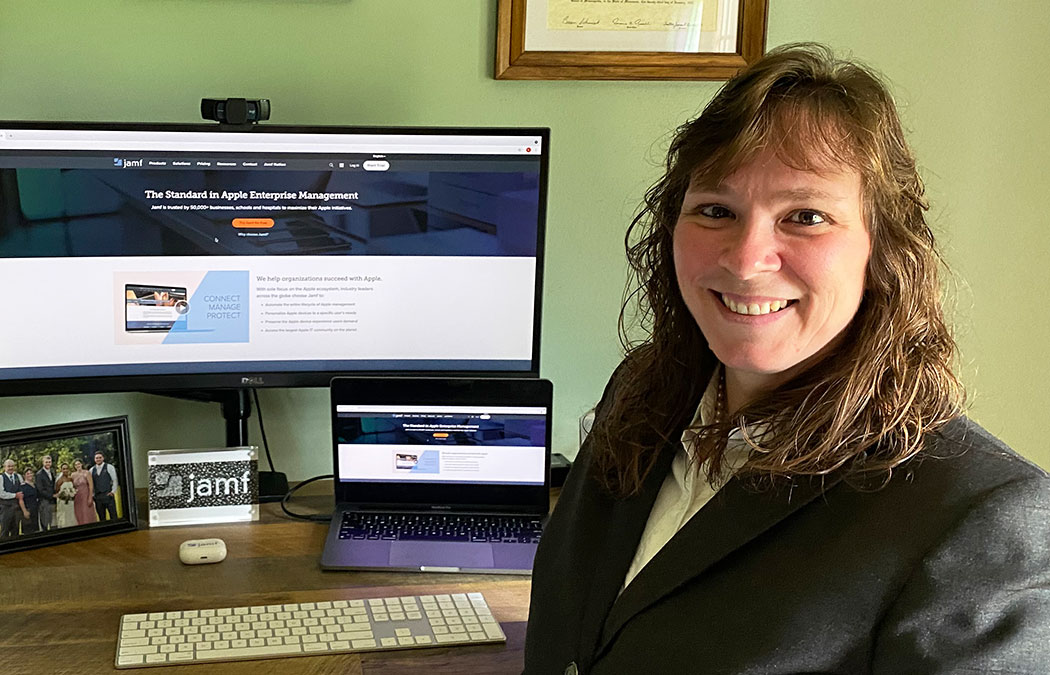 In her role as an IT program manager, Kris Schoen M'20 oversees multiple, simultaneous projects. She says she utilizes skills she learned in Saint Mary's University's M.S. in Project Management program on a day-to-day basis, including sharing current best practices with her team in areas like time management, communication, risk management, and more.
Schoen has worked for Jamf, a software company that helps organizations (like Saint Mary's) succeed with Apple products, since January 2020. In addition to her master's degree, she also ​​has Project Management Professional certification.
"I love that I get to work on a variety of different projects, which allows me to work with many people throughout the organization," she said. "This helps me learn so much more about the business and interact with different people every day. You never get bored in project management because projects change all the time. When you complete one project, you start on a brand-new project with new scope and project team members."
When deciding where to obtain her graduate degree , Schoen said she researched several but kept coming back to Saint Mary's. "I appreciated the promptness of the admission staff in returning my calls and emails, as well as their patience in answering all my questions," she said. "I was specifically looking for a degree in project management, not just a degree that emphasized project management, and Saint Mary's program fit this perfectly. Every class was structured to help further my understanding in project management and allowed me the flexibility of online classes."
In addition to her role as project manager, Schoen gives back by mentoring junior project managers and employees who are interested in a career project management, a role she's taken on at various organizations where she's worked.
Her mentorship background is extensive — at one organization, she led a formal program to mentor junior project managers, meeting with them once per week on an individual basis to assess projects they were working on and sharing tools, techniques, and communication methods to help them move their projects forward successfully. In another organization, she met with the group of junior project managers every month to give presentations on various aspects of project management, including essential best practices and skills; common milestones and tasks; and the importance of emotional intelligence in project management.
"A lot of the discussion centers around communication and how best to work with the different personalities of projects," she explained.
While there isn't a formal mentoring program at Jamf, Schoen still finds a way to use her skills. She meets with new employees to go through what project management means at Jamf, and she also volunteers time outside of normal business hours to mentor junior project managers outside of Jamf.
"I have had multiple people ask me how they can repay the favor, and my response is always the same — be a mentor for someone else. Pay it forward. The biggest gift you can give to someone is the gift of knowledge," said Schoen.
Photo caption: Kris Schoen poses at her home office. She has been working from home during the COVID-19 pandemic.