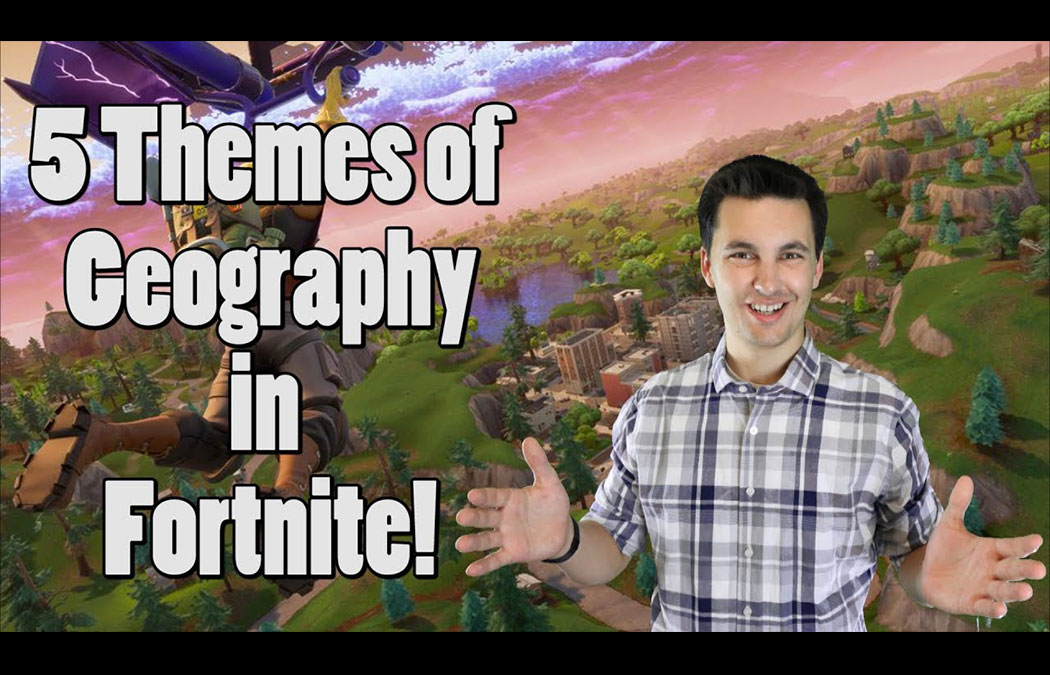 Riley Sinn's YouTube videos have gone viral.
It isn't necessarily his video topics — which range from "Stages of the Demographic Transition Model" to "The Underlying Causes of World War 1" — that are garnering all the attention.
Instead, students are logging in to watch Sinn make classroom material come alive.
By using an equal measure of creativity and technology, Sinn, a 2014 secondary education alumnus of Saint Mary's, is finding new ways to engage his students.
Currently in his fifth year of teaching social studies at Lourdes High School in Rochester, Sinn said that when he was a high school student, he always learned best through hands-on learning and by interacting with the content, rather than via a lecture format.
What he's found is that his students feel the same way. Using their input, Sinn has now completed more than 180 flipped classroom videos, which he has posted on his YouTube Channel within the areas of world history, economics, advanced placement human geography, and sociology.
Right now, in history alone, Sinn has posted more than 15 hours of online material, which combines charts, graphics, and photos, with his high-energy presentations.
The idea started out in PowerPoint format and grew to its current state with student input to make the content be more animated, full of graphics, shorter, and fun. But he said, they're always a work in progress.
"As I got feedback, they've gotten a lot more advanced," he said. "I'm in them. They all have guided notes, so students can be taking notes. They're actively part of it, like they're in class. The one I finished today is the most ambitious one. We're analyzing the 'Avengers: Infinity War' movie, and it's tied to AP geography concepts."
The goal, he said is to make classroom content more relatable to his students. In the end, the videos help students review for tests, get them more interested in the material, help students who are struggling to understand the concepts, and assist when students are out sick so they don't fall behind.
"If they miss something or they miss a class, they can catch up," he said.
Sinn is making a flipped classroom video for every lesson and tries to get the videos and guided notes out before the class, but says viewing is always optional.
"I'm surprised at how many watch them," he said.
In fact, the YouTube channel hosted by "Mr. Sinn" has nearly hit over 2 million minutes watched, and students (and teachers) from nearly every country, including Thailand, South Africa, and India, are using and commenting. His highest viewed video reached 55,000 viewers and he's gotten more than 400,000 views all together.
"Whatever will engage students a little bit more," he said. "If I can make them a little more interested in the subject, I can effectively teach them better."
As another learning technique, Sinn incorporates escape rooms into his curriculum. Students come in, pick teams, and review the rules. The goal is to get into a lockbox by the end of the class period. Using all resources available to them, including the internet and their phones, they are taken through a series of clues, riddles, and puzzles. Some clues are hidden in the room. He even uses black lights to further the mystery.
"When they get into it, it's a big deal," Sinn said. "They may have to take a quiz, but the answers from the quiz are used in QR code to get into a locked online website that connects them to something else in the room where something else hidden. It's all customized by lesson.
"They have to think outside the box and utilize teamwork and good luck," Sinn said. "You can see students thinking. It gets to be an intense competition. They're a lot of fun. Some students have submitted it for memorable moments in the yearbook."
Sinn credits Saint Mary's for planting the seed for his creative teaching methods and as where he learned to focus on adapting teaching styles to facilitate student learning.
"Saint Mary's helped me a lot," he said. "Especially my classes with Dr. David Jackson and Dr. Melissa Luedtke. I also use a lot from my classes with Dr. Wes Miller in sociology; the way he engaged us helps me a lot in guiding my students to engage. A lot of the ideas I started with in the Saint Mary's Education Department, I now use in my own classroom.
"Making learning more hands on, all of that goes back to the ideas and discussions that happened at Saint Mary's and within the Education Department that focused on putting students first and getting creativity flowing."