Since the university first began work on our new website in spring 2021, much of the most critical work on this project has occurred in the background, including extensive research into prospective student needs; identifying technical requirements; auditing our current website for content; and working with faculty and staff to identify priorities.
In the past few months, however, we have moved beyond the planning stage and are now in the process of putting all our findings into action. The most visible and exciting part of this work is the new responsive, mobile-first, user-focused website design. In addition, we have:
Completed the website wireframe, which details how the various pages and elements of the website function together for a seamless user experience.
Migrated our microsites to a new server.
Developed templates for program and major pages.
Begun working with program directors, faculty, and staff in the graduate, bachelor's completion, and certificate programs to update and write content for the new program pages.
As of last week, each of you has been asked, either via email or through Saint Mary's Today, to review the content migration process and spreadsheet to identify pages on the website to which you can or should contribute. The Marketing and Communication team will continue to communicate with you over the next several weeks to ensure we have input and feedback from as many people as possible as we develop compelling content to tell the Saint Mary's story.
The website redesign is tied directly to the brand refresh, and the new site will reflect our new visual identity, express our student-centered approach to all we do, and provide clear paths to enrollment for prospective students.
The full site redesign will not launch until the beginning of the new academic year, but you will see a visible change on the current site the first week of June when we "reskin" the site with our new logo and other elements of our refreshed brand identity.
Our new content management system provides greater access and flexibility, so your contact updates can be made more quickly and easily. Part of the new website rollout will also include training to ensure you can use the new tools with confidence.
While much of the heavy lifting on this project has been done by the MarComm team, the website redesign is truly a community effort, one which has and will continue to rely on all of us to be successful. Thank you for your support and participation.
On first visit, the home page will boldly make our brand statement. This screen will disappear within 3 seconds, or on a click.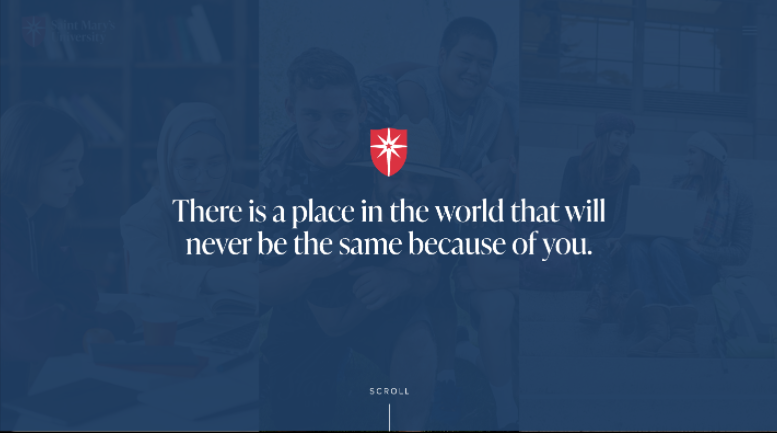 Visitors can choose from three different "home" pages, each designed around a clear call to action: Discover our programs; Explore Saint Mary's; and Apply. In addition, top navigation offers quick links to key actions, and the hamburger menu (the three horizontal lines) opens a complete menu of the site, below.