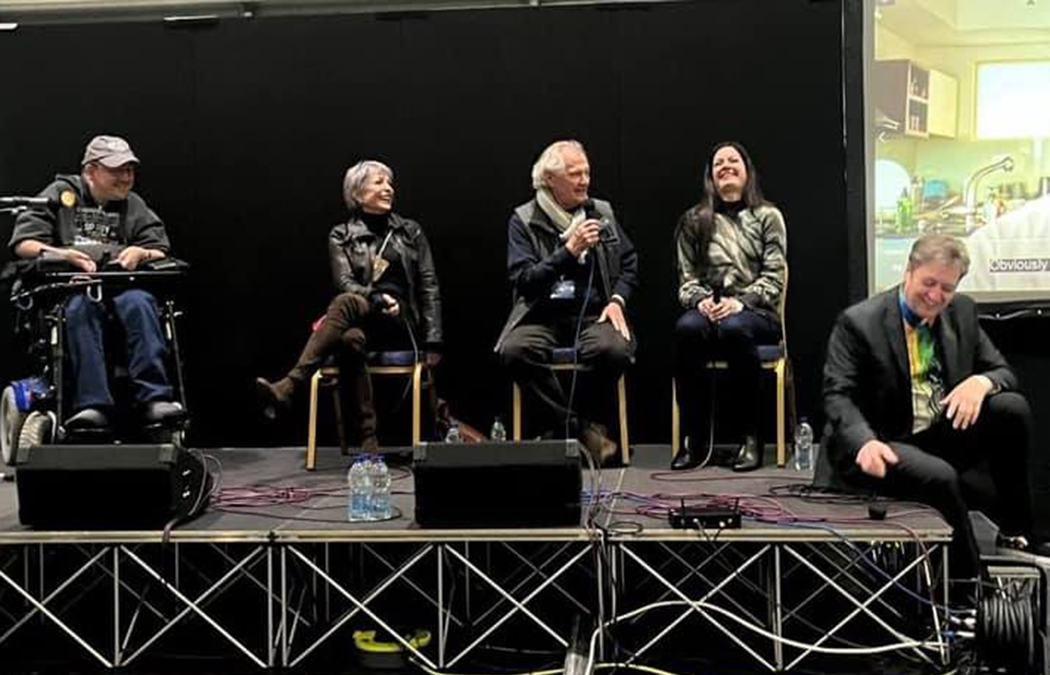 Like many of her colleagues at Saint Mary's University, Mallory Knipe, DSW, has presented research at multiple academic conferences during her career in higher education. However, Dr. Knipe, chair of the social work programs at Saint Mary's, is likely the first from the university to present research at a "Stark Trek" convention.
Throughout the pandemic, Knipe conducted research that looked at the interactions of people participating in the digital community Sid City Social Club. The online community was created by "Star Trek: Deep Space Nine (DS9)" actor Alexander Siddig and production designer and moderator Melissa Lowery to help support fans who were experiencing isolation during the COVID-19 pandemic.
Knipe wouldn't refer to herself as a "Trekkie" but says she has a deep appreciation for the beloved science fiction series. Knipe's connection to the show comes from her late father, who she says wouldn't have shied away from deeming himself a Trekkie.
"I used to go stay with him for the summers, and that was kind of our thing, staying up to watch Star Trek together almost every night," she said.
After her father passed away, feeling nostalgic, Knipe began watching "Star Trek: The Generation and Star Trek: DS9." One night she Googled the actors from the series to see where their careers took them after leaving the sets of the Enterprise and the space station Deep Space Nine. She learned that Siddig had created Sid City Social Club, a social club that met twice a week on Zoom. Participants had the unique opportunity to chat with Siddig.
Knipe found her way into the group's Zoom room and was excited to meet the actor. At the time, she was unsure whether or not she would keep up with the meetings. That changed very quickly.
"So as soon as I joined Sid City, it was really clear that this was a very special community, and a very helpful community and meaningful community to so many people," she said.
During one of her early visits to the community, Knipe met a friend of Siddig who does fandom research. The two connected, and Knipe asked if she planned to study the interactions in Sid City Social Club. While the fandom researcher had too much on her plate, she encouraged Knipe to undertake a study of the community. After having her research proposal approved by Siddig and the Saint Mary's Internal Review Board, Knipe went about her mission of going where no social work researcher has gone before.
She spoke to 25 different people from seven different countries to find out what this digital community meant to them during a global crisis, and also frequently a time of isolation and anxiety. One of the biggest things Knipe found was that it provided Siddig's fans with some form of stability throughout the week.
"During the pandemic, people who were let go from their jobs all of the sudden or were working from home felt kind of like being lost in space," Knipe said. "People cited the group as something that provided stability during a time of change."
With a desire to increase stability, the group grew beyond its regular meetings, adding trivia challenges on the weekend and social media groups where people could have extended discussions. It was here where Knipe saw members of the community reaching out to support each other. She found that Sid City Social Club also offered an outlet for socialization during a time when most felt disconnected from others.
"If people were struggling with their mental health or had a family member who was sick, they would say things like, 'The people of Sid City were incredibly supportive of me, and I don't know what I would do without this community,'" Knipe said.
After concluding her research, Knipe skipped presenting her findings at an academic conference and instead traveled to Destination Star Trek, a "Star Trek" convention that is held in London. Knipe presented the research on a panel that included "Star Trek: DS9" actors Nana Visitor and Andrew Robinson, and Rob Moriarity, a member of Sid City Social Club. Siddig was also included in a pre-recorded message. For Knipe, the most validating part of the convention was having her work affirmed by others on the panel.
"During the panel, Andy turned to me and said, 'What you're doing is so important and meaningful," Knipe said. "And to have that coming from a 'Star Trek' actor was so impactful."
During her research, Knipe had to distance herself from authentic participation in the activities of Sid City Social Club. However, while doing the research, Knipe she experienced many of the same benefits other participants in the community had found. Now that the research is done, Knipe is looking forward to returning to Sid City Social Club solely as a participant.
"This was my first experience with a fandom, and when I initially started, my intention was to be an outside researcher looking in," she said. "I really became sucked into the community and loved my participation in this community."
Knipe recently discussed her research on Saint Mary's Currents, the university's new podcast. These podcasts showcase the wide array of expertise at Saint Mary's University. By weighing in on important and timely topics, we are enhancing our reputation to potential students, benefactors, and community partners. If you have an idea we should discuss, please contact Rodgers at brodgers@smumn.edu. You can listen to the conversation in the audio player below: