The City of Winona, home to Saint Mary's University of Minnesota and its Winona Campus, again received accolades as a top place to live.
The well-known Expedia online travel service recently named Winona the most beautiful town in Minnesota, and an earlier ranking by Safewise called Winona the safest college town in the United States.
Expedia was on a mission to uncover "the most beautiful places to travel in every state that may not be on your radar," taking into account "all kinds of aesthetically pleasing characteristics, from historical attractions to natural landscapes." Expedia called out Winona's scenic natural setting in the bluffs along the Mississippi River, easy ways to enjoy the great outdoors, arts and culture, and historic downtown architecture.
Students coming to Saint Mary's in Winona find plenty to see and do.
Nathan Young, a Saint Mary's sophomore from Northern Minnesota, said he loves Winona "for the beautiful landscape and activities it has to offer. It has both the river and the bluffs, and it's all within reach. You can do anything from rock climbing, to mountain biking, to canoeing."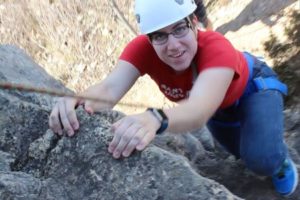 Echoing those comments was Amanda Baker, a Saint Mary's senior from Western Minnesota. Baker loves to walk the paths and admire the reflection of the bluffs in Lake Winona. "Coming to school in Winona—even though it's not large and urban—there are lots of things to do because of the beauty and natural setting."
The city is a year-round travel destination, and as the Visit Winona website points out, "There is a lot to love about Winona. From its sculpted bluffs to its mighty river and all the places in between, Winona has unparalleled beauty mixed with a cool urbanity and (historic) old-world charm that proves that yes, you really can have it all in one enchanting place."
Visit Winona also says Winona is a paradise suited for "outdoor lovers, whatever your version of relaxing is—whether it's swinging on a bench by the lake or tackling a wicked mountain bike trail; whether it's a tranquil hike in the woods or doing whirlybirds on a wakeboard."
But Winona offers much to do indoors, too. According to Visit Winona, "the arts scene here is as cosmopolitan as you'll find anywhere. Together with music and film festivals, art shows, and museums for every interest, this extraordinary array of arts and culture leaves no doubt that Winona is not just another pretty face."
View photos and video of why students, full-time residents, and visitors love Winona.
Visit the Saint Mary's University Winona Campus—home to undergraduate, residential college students and graduate students as well—and see Winona for yourself. Find more information about campus visits and the state's most beautiful town.

Photo captions: Winona's scenic natural setting, arts and culture, and outstanding recreational resources combine to make it Minnesota's most beautiful town.
Adventure in the great outdoors is easy to find right in the Winona city limits. Saint Mary's students enjoy the challenge of climbing the Sugarloaf landmark.