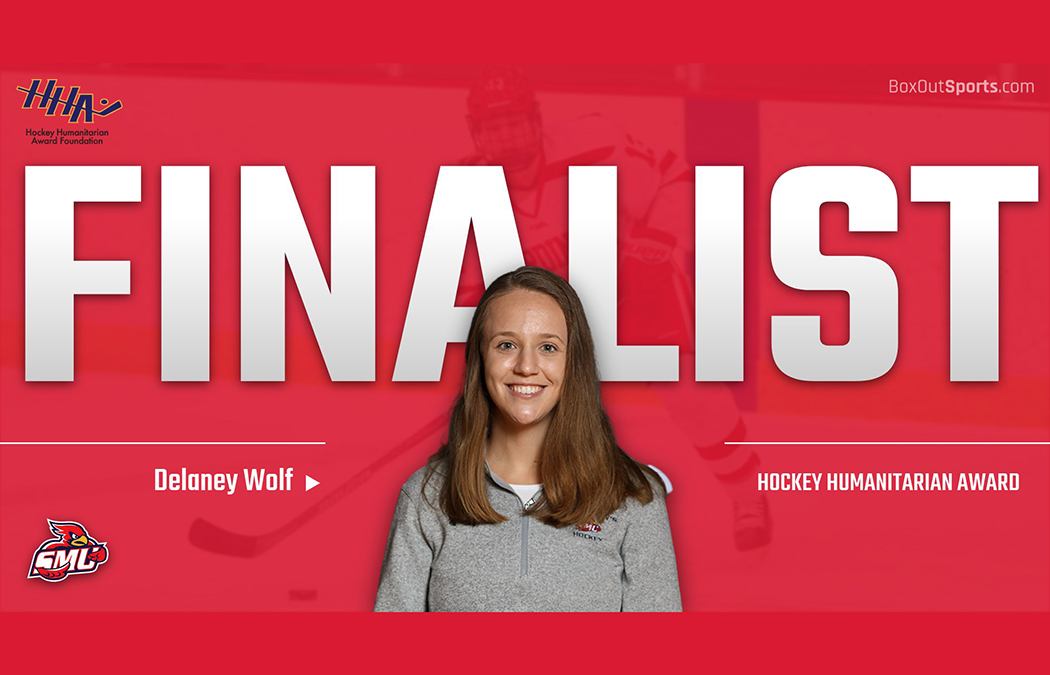 Saint Mary's University's senior Cardinal hockey player Delaney Wolf has been named one of three finalists for the Hockey Humanitarian Award for the second year in a row. The Hockey Humanitarian Award Foundation presents the award annually to college hockey's "finest citizen" for leadership in community service. Student-athletes from Division I, II, and III are recognized in the same prestigious category.
Wolf has proven to be a team leader from the minute she stepped on Saint Mary's Winona Campus. Voted a team captain as both a junior and a senior, Wolf is beloved by her teammates, coaching staff, and Saint Mary's professors because they all know she is going to bring her best to whatever she is asked to do. Despite balancing the rigors of carrying a 4.0 GPA as a double major in biochemistry and Spanish and playing collegiate hockey, not to mention playing in the university band, Wolf finds time to give back — tutoring fellow Saint Mary's student-athletes, hosting team meals, mentoring youth hockey players in the Winona association, and spending countless hours participating in local volunteer work both in her hometown of Bismarck, N.D., and in Winona, Minn.
The winner of this year's Hockey Humanitarian Award will be announced on Friday, April 9, and the Saint Mary's community is invited to join in a live viewing celebration in the Saint Mary's gym, beginning at 4:50 p.m. Light refreshments will be served. Attendees are asked to wear masks and follow social distancing protocols. Please join us in recognizing Wolf and her tremendous contributions to Saint Mary's and the greater Winona community.