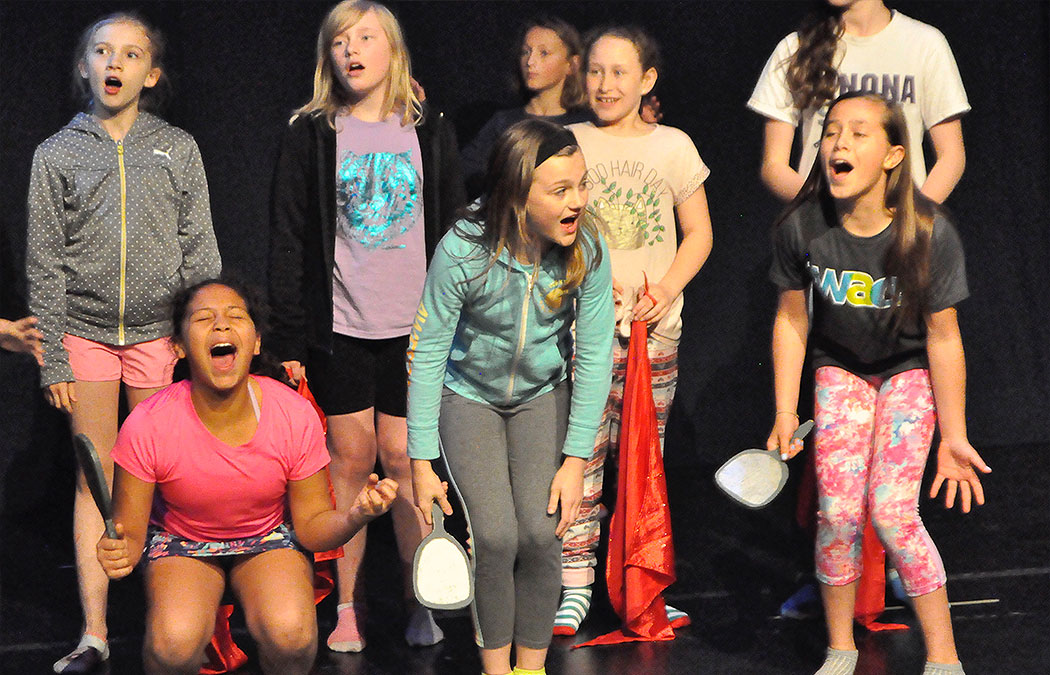 WINONA, Minn. — Minnesota Conservatory for the Arts (MCA) is holding open auditions for Main ReACTion, a new improv troupe of Winona-area youth ages 8 to 13 years old, on May 19 from 6 to 8 p.m. at MCA in the Academy Theatre of the Valéncia Arts Center, 1164 W. Howard St.
Main ReACTion will explore improvisational theatre in various spaces throughout Winona's historic downtown, thanks to a grant through Main Street Winona's Third Space.
Four rehearsals with the improv troupe will be held between May 20 and the beginning of June (dates to be determined) to learn and practice new improv skills and games. Eight weekly one-hour performances by Main ReACTion will be held on Tuesdays between June 11 and Aug. 6 (June 11, 18, 25, July 9, 16, 23, 30, and Aug. 6).
During auditions, actors and actresses can expect to participate in a variety of improv games. Those auditioning should also bring a calendar with any vacation or summer activities on it to note conflicts on the audition form. Eight to ten troupe members will be selected based on their ability to think on their feet, make quick decisions, stage presence, ability to work with others, and variety of ideas. There is no fee to audition, but troupe members will be asked to pay $20 to participate, which covers all instruction and a T-shirt.
Why bring improv theatre downtown?
With the rise of technology and safety concerns, children are not exploring their communities. The goal of Main ReACTion is to bring children back to the downtown area in a safe and structured way through the way children learn best — exploration.
One of the best ways for children to explore in a safe and structured way is through improv theatre. Main ReACTion will be a troupe of young actors and actresses chosen through an audition process in conjunction with MCA. After rehearsing to learn improvisational theatre games and techniques, Main ReACTion Improv Troupe will perform weekly improv shows in a variety of locations within the downtown area. These improv shows, while entertaining, will provide the young actors and actresses with the opportunity to explore the new places they are in — a bus stop, a parking spot, the sidewalk — and associate these places with a positive experience. Using theatre to explore these spaces will deepen the children's appreciation for Winona's downtown.
About the artist
Main ReACTion will be led by Catherine Deysach, an instructor at MCA. Deysach graduated from Saint Mary's University of Minnesota with a B.A. in Elementary Education, and a minor in Spanish. She began dancing at the age of 8, studying a variety of styles at Pat Peare School of Dance and Dance-Twirl Minnesota in Eagan. She studied musical theatre at Saint Paul Conservatory for Performing Artists in high school where she combined her acting, dancing, and singing while performing in various shows around the Twin Cities including Junior Claus with the Director's Studios, Four Little Girls, and Almost to Freedom at Stepping Stone Theatre. At Saint Mary's, Deysach was a member of the Concert Choir and Chamber Singers, flute choir, and Sigma Alpha Iota women's music fraternity, and was captain of the dance team.
About Third Space
Third Space is part of Artists on Main Street, a partnership between the Winona Main Street Program, Preservation Alliance of Minnesota and Springboard for the Arts, with support from the Bush Foundation. The goal of Third Space is to create free programming for the public to be held outside on Third Street between Center Street and Lafayette Street, to encourage outdoor activity downtown beyond the borders of Levee Park, and to encourage foot traffic in the downtown business district. This artist-led placemaking initiative is meant to be varied, from passive programming to interactive events, and include a broad cross-section of Winona's population from youth to seniors, and may be focused on one specific part of the population.
About MCA
The Minnesota Conservatory for the Arts, an affiliate program of Saint Mary's University, is a nonprofit organization offering programming in dance, music, visual art, and theater. Classes, lessons, workshops, and camps are offered for students of all ages from birth through older adults at the Valéncia Arts Center. For more information, go to mca.smumn.edu, email mca@smumn.edu, or call 507-453-5500.