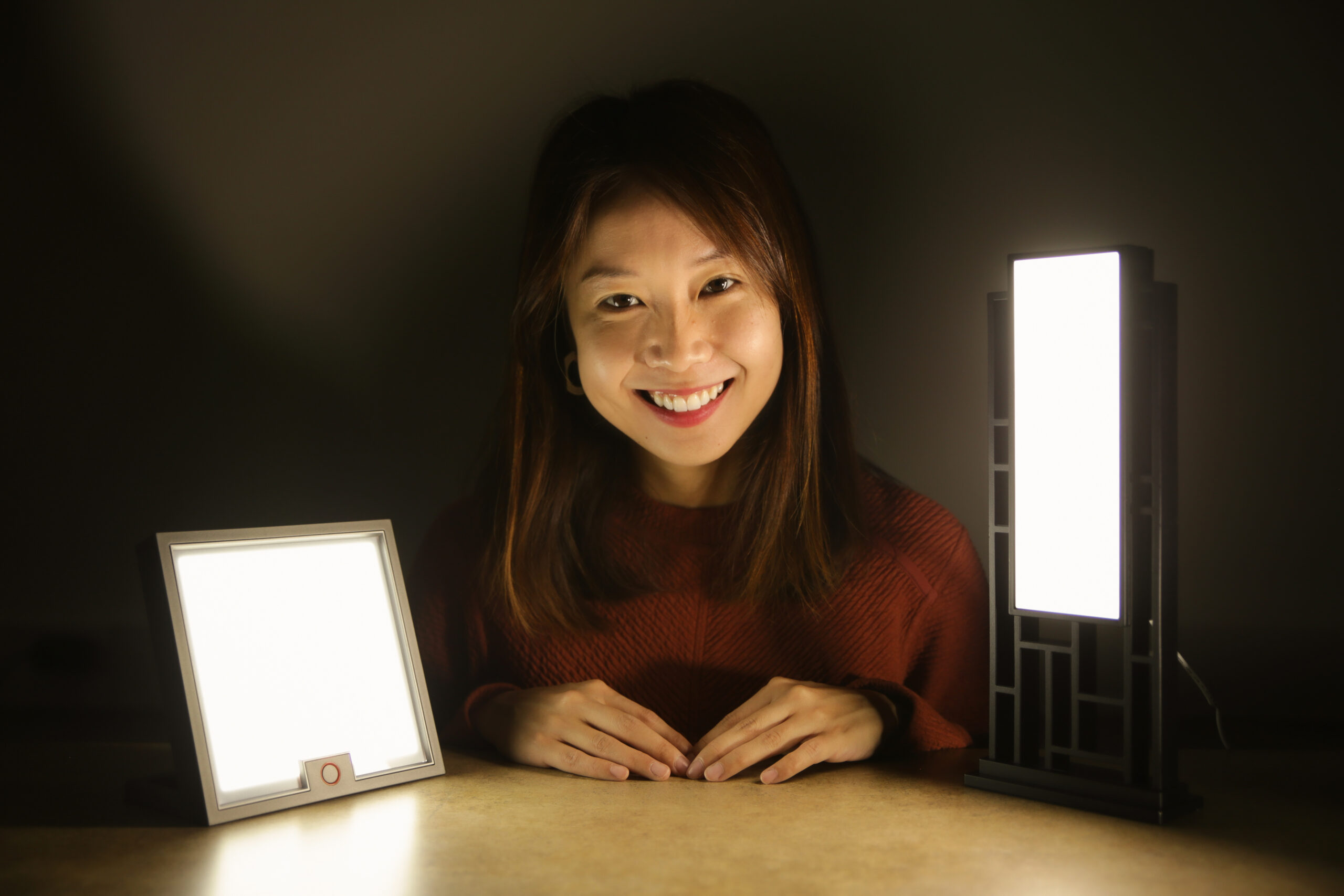 "It was the most nerve-wracking, out-of-body, exciting thing I've ever done in my life. I felt like I couldn't breathe."
Such was the reality of Amber Leong M'10 earlier this summer, walking out to a cold and quiet Los Angeles studio clad in a warm, yellow dress as a contestant on ABC's "Shark Tank" with all eyes on her — including a group of five wealthy entrepreneurs-turned-investors.
She had to convince them to buy into her dream of expanding her e-commerce bright light therapy lamp business, Circadian Optics, into brick-and-mortar stores. The woman who grew up in Malaysia, whose American dreams were first created by watching American sitcoms, was being filmed for primetime TV in her adopted country.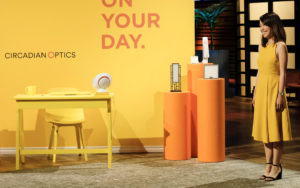 Her husband, Kin Chew, not on site, kept checking his phone, waiting for updates or a call about a possible proposal from one of the sharks. "I was in kind of a daze," Chew said. "It was a whole day of waiting and then a sudden burst of excitement when I heard that we were up."
He never received a phone call during her negotiations with the investors; it wasn't needed. The opportunity to appear on national TV was just the latest chapter in her improbable journey, built with preparation, persistence — and the ability to be flexible, when needed. It had taken more than a year from when she first participated in an open casting call for the show at the annual Consumer Electronics Show in Las Vegas in January 2018.
Leong, who earned her Master of Business Administration on the Twin Cities Campus at Saint Mary's University of Minnesota, came into the "tank" asking for $750,000 for a 10% stake in her multimillion-dollar company.
After explaining the impetus of her company and its burgeoning success (with sales of $4 million in the last year alone), she talked about her background of transforming from a girl living in the heat and humidity of Malaysia to a woman who overcame a series of obstacles to construct a success story in her much colder adopted home of Minnesota.
Among other stories, she explained how she came from a house with no indoor plumbing, navigated the United States as an international student and at one point was given a 50% chance of surviving a rare medical condition.
"You represent why we all do this show," billionaire investor Mark Cuban said after hearing her backstory.
In the end, four of the five sharks offered joint proposals to Leong. The team of Cuban and Lori Greiner offered the same deal as their counterparts Kevin O'Leary and Barbara Corcoran — $750,000 for a 20% stake — before Cuban and Greiner offered $50,000 more (in the words of Cuban) "for your parents, who are unbelievable."
Although Leong did not accept O'Leary's deal, she did earn the respect of a man known just as much for his gruff and terse disposition as for his business dealings. "One of the best presentations," said O'Leary, who was brought to tears. "One of the best."
Leong was both "happy and shocked" by his comments: "It goes to show that if you are passionate, authentic, and you do your best, and you've laid it all out there, it resonates with people."
'A stepping stone to a better future'
Leong's entire time on the "Shark Tank" stage lasted a little more than 10 minutes, which is not nearly enough time to learn about the intricacies on which her American dream was built.
Recently though, she came back to Brother Louis Hall and sat in one of the classrooms where she had begun attending class at Saint Mary's in 2008 as a 20-something still fairly fresh from her undergraduate experience at Bemidji State University, where she earned a degree in communications/journalism in 2006.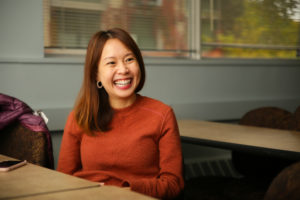 Upon finishing her degree from Saint Mary's in 2010, she accepted a job at as a brand manager at the Minneapolis offices of Jack Link's Beef Jerky, an opportunity that she marks as a turning point in her career.
As a student, she remembers sitting with her classmates, most of whom were older with several decades of real-life experience and practical knowledge in the business world. Some of them shared the commonality of being an immigrant, having come from places such as Ethiopia, Argentina, and Norway. Some did not, but all shared a similar drive that was familiar to Leong, who decided to pursue her MBA after the Hong Kong-based watch manufacturer she worked for in sales and marketing decided to close its U.S. office in Minneapolis.
"They would work in their day jobs and then they would come here. They would spend the next four hours until 10 o'clock here and I would look at them. I saw their resolve to make something of themselves. They were using this as a stepping stone to a better future for themselves," she said of her classmates. "And that is the single most important thing I have learned from Saint Mary's: the personal responsibility you need to have."
Mirela Miresan served as the assistant director of the MBA program when Leong started her studies at Saint Mary's. Miresan recalls the first time that she met with Leong in 2008 to determine if the program would be a good fit.
"She knew exactly what she wanted to do, Miresan said. "And she was willing to learn what needs to be done to succeed."
Bridgette Kirschenmann M'10 began the MBA program at the same time as Leong. The two were part of a group of students who would frequently meet for sushi in downtown Minneapolis. Their connection was instant.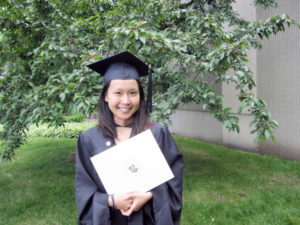 "I loved her drive and determination to better herself," said Kirschenmann, who currently works as a marketing consultant and health and fitness instructor. "She, honestly, is one of the most genuine people I have ever met."
Kirshenmann was amazed to learn about Leong's backstory. Through her friend, she learned about the "meaning behind love and devotion one had for their family" that runs deep within the tapestry of Malaysian culture. She learned about Leong's story of survival.
"She beat the odds," Kirschenmann said. "Instead of feeling sorry for herself, she took that opportunity to follow her dream and never looked back. Her success isn't a shock; talent always finds a home," Kirschenmann said.
'There is true kindness'
Leong's original home is Salak South, a town located at the southern tip of Malaysia's capital and largest city, Kuala Lampur. It was there where she would watch a variety of American TV shows such as "Full House," — "I wanted to be Stephanie Tanner," she said — "Saved by the Bell," and "America's Funniest Home Videos." She also avidly read the Sweet Valley High book series.
She had always wanted to get her degree from an American university. With the help of her parents, who cashed out their retirement fund to help with tuition, she eventually found herself at Bemidji State University as a 20-year-old transfer student.
"They sent me here with a lot of faith," Leong said. "I had a lot of faith in myself and also a bit of youthful ignorance."
Her love of history and stories made her want to pursue a career as a journalist, possibly working for a national news organization like CNN. This was before she would realize how hard it was to find a job in her initial chosen profession. Her mother sent her youngest daughter off with what would become Leong's favorite piece of advice: "Don't be rigid… Dreams change. Plans change, and you have to be OK with that."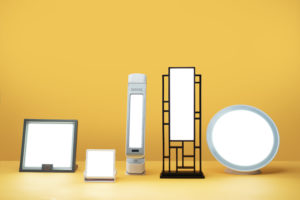 Leong first touched down in Minnesota via the Minneapolis-Saint Paul International Airport on a cold January day, in the middle of winter. While she was waiting for a smaller plane to finish her journey to Bemidji, she befriended four passengers, all of whom gave her their cell phone numbers in case she needed assistance of any kind.
"I think they could see that I was alone, this young girl who was alone. I guess I was really excited. They'd be like, 'OK, this girl needs help,'" Leong said with a laugh. "I've been here long enough now, that I know about Minnesota Nice, but there is true kindness… If you need help from Minnesotans, they will give you help."
While at Bemidji State, Leong worked a variety of jobs including resident assistant and campus tour guide to make ends meet. She would save in any way she could, going so far as to take advantage of her slight frame by buying children's clothing during her first trip to Target.
Nine months after arriving in Bemidji, Leong was dealt her toughest obstacle yet: a diagnosis of toxic shock syndrome, a rare bacterial illness. With her parents unable to visit due to visa issues, Leong received a large regimen of antibiotics. Luckily, her medical team detected the illness within 24 hours of her being exposed to it, vastly improving the odds of her body's ability to fight off the illness. She spent two weeks in an intensive care unit, followed by another week in a hospital ward.
"It stays with me every day," Leong said. "I survived and it does give you a perspective in life. It's made me more resilient. It's made me grateful.
"When you go through life, there are mountains and valleys. It made me know I will be OK. You just have to be tough and be strong and go through the storm, and the storm will eventually end."
'It was now or never'
Four years into her job at Jack Link's, Leong had the idea to start what would become Circadian Optics. It would be great to say that the co-founder of a therapy lamp company had a proverbial light bulb turn on one day — but that is not how it happened.
In pursuit of a promotion, Leong had been putting in long hours and noticed, over time, she felt sluggish and was not getting the quality of sleep she needed to meet the next day's demands. One day, she read an article about winter blues and the importance of natural light on one's Circadian rhythm — and humankind's biological need for sunlight that is often lacking in many modern-day workplaces.
Leong decided to invest in a therapy lamp to reset her internal body clock. She immediately felt energy and had a restful sleep, but also gained the reputation for being the "crazy lamp lady" in her office given its bulky nature. After researching the market, she identified the need for a more stylish line of therapy lamps that would not be so off-putting to others.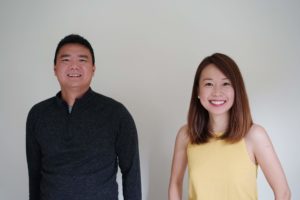 "I had an idea for a while, and it was just replaying in my head," Leong said. "I was doing OK at my job. I had enough savings and I had just turned 30. I then decided, 'Well, if I don't do this, if I don't make the leap now, when am I going to do it?'… It was now or never."
She eventually decided to approach her husband about the idea.
"I loved the idea and completely shared the vision and passion for it," Chew said. "We were going to try to create a product that helped people, and that was a great purpose for us to work on it."
Leong and Chew run their business out of their Minneapolis office. Although maintaining the balance between their work and personal lives posed a bit of a challenge when they were starting out, they have been able to achieve success by keeping "a clear delineation of roles," Leong said.
Going forward, Leong is excited for what lies ahead for her company. Having reached a deal on "Shark Tank," she hopes that her therapy lamps will be in major retail stores by 2020. She also hopes to launch additional models to go beyond the five currently offered.
"I never expected to see the company on 'Shark Tank' when we were first starting out," Chew said. "It's still hard to believe now."
As his wife will tell you, what is hard to believe can only be actualized by putting forth the effort needed when inspiration meets motivation.
"If you have an idea, even if it's 70% there, just go for it," Leong said. "Try stepping out of your comfort zone and choose creativity over certainty…. Be brave, be bold, and try because what have you got to lose? You don't want to live with the regret, especially if you have an idea that keeps coming back to you again and again.
"There is something there if the idea refuses to leave you and it's been with you. Act on it. It might change your life."