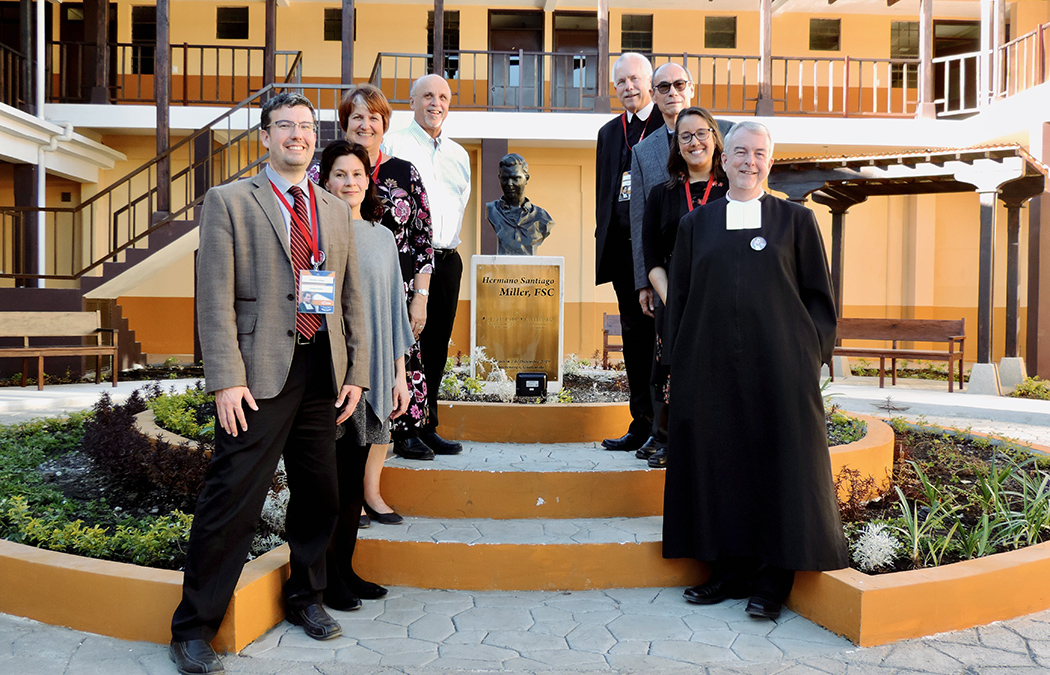 The following is the first of a two-part series that examines being Lasallian in the modern world.
As Alisa Macksey, Marcy Van Fossen, Ph.D., and Timothy Gossen D'14 walked the streets of Huehuetenango, Guatemala, Dec. 7, 2019, they were struck by the increased commercialism and heightened tourism.
Macksey, dean of Student Success and the First Generation Initiative at Saint Mary's University; Van Fossen, former faculty member and current trustee; and Dr. Gossen, vice president for Student Affairs and Student Life, had visited Casa Indigena — the school where Blessed James Miller, FSC '66, M'74 once worked — nearly 20 years ago.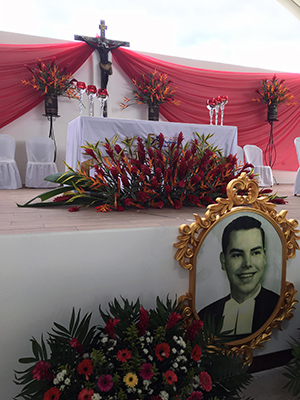 They again visited the section of the school wall where "Brother Santiago" (as everyone called him) was making repairs when he was shot by three masked men on Feb. 13, 1982, at the age of 37. The location, and its deep meaning, has not been changed by time.
They were surprised to see that a portion of one of Casa Indigena's buildings had been transformed into a three-room museum that neatly preserved different artifacts from that fateful day. There, one can find the shirt Blessed James Miller wore, still caked with blood; a piece of tissue that was used to try and staunch the wound; and other mementos and photos.
It is suspected that Blessed James was killed because he and the other De La Salle Christian Brothers at Casa Indigena fought to keep young students from being forced into the military. He was recognized 38 years later with a Feast Day in his honor, which is celebrated on Feb. 13.
Blessed James was recognized as a Servant of God in 2010; in November 2018, Pope Francis recognized his martyrdom; his beatification occurred in December 2019; and now he must have one miracle posthumously attributed to him to reach the next, and final level, of sainthood.
Macksey, Dr. Van Fossen, and Dr. Gossen were joined by other representatives from Saint Mary's for Blessed James' beatification ceremony in Guatemala including, Brother Robert Smith, FSC '76, Ph.D., senior vice president for University Initiatives and special advisor to the president; and Ann Merchlewitz, J.D., general counsel and university secretary. Several De La Salle Christian Brothers from the Winona Campus also joined, including Brothers Francis Carr, FSC '66; Pat Conway, FSC '75, M'80, Ed.D.; and Stephan Markham, FSC '66.
Those in attendance said that the experience serves as a daily reminder of the Lasallian charism — which by definition is "a gift of the Spirit to the Church" — in the modern world. And given that Saint John Baptist de La Salle is the patron saint of teachers, that charism is historically rooted in education of the young, particularly those from marginalized backgrounds.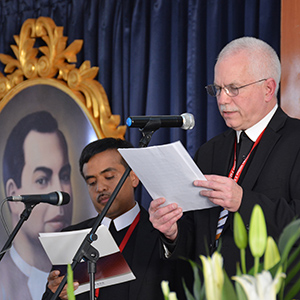 "I hope the life of someone like Blessed James can inspire all of us to be the best of our ideals," said Brother Robert. "De La Salle wrote, echoing John's Gospel, 'There is no greater love than to lay down your life for your students.' Well, most of us lay them down in less dramatic ways than being martyred. We lay it down by spending a Sunday afternoon reading 100 student essays."
The idea of the Lasallian Catholic charism was a focal point of the presentation given by Brother Thomas Johnson, FSC '76, Ph.D, who served as the Vicar General of the De La Salle Christian Brothers from 2007 to 2014, as he spoke to both the Winona and Twin Cities campuses Feb. 12 and 13. His presentation, titled "Being a Catholic and Lasallian University in Today's Diverse World," was part of the Living Our Lasallian Catholic Identity Speaker Series.
Brother Thomas suggested that the act of teaching itself is a charism, "to make a loving and saving presence of Jesus Christ a visible and effective reality in the world of education, in the world of the young," borrowing the definition from former Superior General Brother John Johnston, FSC '55, M'63, in his 1994 work Living Authentically in Christ Jesus.
In the case of Blessed James, the youth he worked with were indigenous Guatemalans, who were often swept off the streets and forcefully conscripted into the country's army. Blessed James and his fellow De La Salle Christian Brothers at the school not only protected them, they also provided these young boys with a secondary school education that included practical agricultural experience.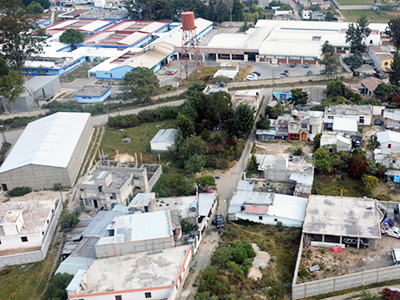 "These were kids from the hills," said Brother Robert, who first visited Huehuetenango two years after Blessed James was killed. "They were likely considered something less than fully human by the government and authorities."'
Blessed James joined a list of members of Catholic religious orders who died protecting those they vowed to nurture and educate, as part of an overall period of history in Central America in the '70s and '80s.
"Blessed James is a wonderful example of the Lasallian mission," Macksey added. "He was so humble. He didn't go down to Guatemala wanting to be known for his work. He embodied that part of our charism and mission of educating those who weren't being educated to improve their quality of life. And essentially, that's why he was killed."
The Lasallian charism is … introspective
Dr. Gossen first visited Huehuetenango, Guatemala, in 2002 as part of a group of five representatives from Saint Mary's, who took a two-week trip to visit Lasallian ministries near the area.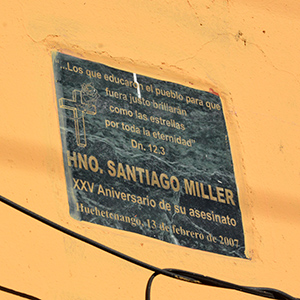 "He was just a big man, a big presence," Dr. Gossen said of Blessed James. "But for me, he was just normal. I think similarly about Saint John Baptist de La Salle or some of the other people who we recognize within the Brothers' religious order. They are just normal men who have done extraordinary things. And in this case, and in many other cases, they stood up for the rights of their students."
Dr. Gossen began his Lasallian journey as a freshman at Saint Mary's in 1997. Upon completing his undergraduate degree in psychology, he began working at Saint Mary's in several capacities including as the vice president for Mission, in which he served as a liaison between the De La Salle Christian Brothers and the university.
Around the same time he graduated, he also lived with the De La Salle Christian Brothers on the Winona Campus for two years as a Brother candidate to determine if that was his calling. It was not, but being a part of Lasallian higher education was.
The mission of Saint Mary's reads as follows: "Enriched by the Lasallian Catholic heritage, Saint Mary's University of Minnesota awakens, nurtures, and empowers learners to ethical lives of service and leadership."
Dr. Gossen said he believes the mission is founded in faith and hope, as he circles back to the importance of the word "nurtures."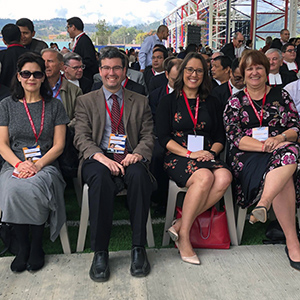 "We believe there's something inside students already," he said. "They're not an empty vessel, but there is something inside of them that needs to be nurtured, and that's our mission."
One interesting fact that has stuck with him when reflecting on Lasallian teachings is the act of De La Salle naming the De La Salle Christian Brothers. Instead of the traditional patriarchal title of fathers, he decided to call them Brothers, given that they were to be Brothers to one another and older Brothers to the students who were entrusted to their care.
"It's a relational piece," Dr. Gossen said. "We're going to gather. There's a community. We're a family."
To Dr. Gossen, Catholic higher education is where "the church does its thinking," a notion that has helped lead him to oversee the publication of AXIS: Journal of Lasallian Higher Education.
"It's where we can have dialogue and discuss important topics. It's where we can unpack things and explore," he said. "In Lasallian education, we may not necessarily agree on everything, but we can have meaningful conversations."
Read more about being Lasallian in part two of the series next week.
RELATED MATERIAL:
Saint Mary's Magazine (Fall 2007): "Living and Learning Lasallian"