All learners will be seen, heard, and inspired. Because of you.
Saint Mary's M.A. in Education program can help advance your career as a teacher while you learn how to create the best learning experiences for all students. When you invest in yourself, you invest in your students. By combining educational theory and research, this master's degree program guides you in enhancing your current educational practices. It also gives you the skills to meet the challenges of today's classrooms and tomorrow's learning environments. Reignite your passion as a teacher by growing professionally and giving students your best. At Saint Mary's, we empower educators for life.
The M.A. in Education offers four program options to help you lead today's classrooms and ensure all learners thrive:
M.A. in Education with Curriculum and Instruction Specialization
M.A. in Education with Culturally Responsive Teaching Certificate
M.A. in Education with Mental Health Certificate
M.A. in Education with Custom Specialization for eduCATE-WI Students Only
Regardless of which option you choose, you'll be taught by educators and practitioners, providing practical insights, research-based instructional strategies, and ethical principles to integrate into your classroom immediately.
Read More
Create a positive classroom experience by focusing on improving curriculum and assessments. Discover ways to craft lessons and design curriculum that fit all learning styles, abilities, and personalities so each student can reach their full potential. Learn practical methods for evaluating and grading work across all standards.

Plus, explore ways to deepen learning and engagement, develop higher-level thinking skills, examine effective classroom management methods, and implement creative teaching strategies for different learning styles. You'll also study techniques to build upon your communication skills to increase effective collaboration, resolve conflicts, and improve your relationships with multiple stakeholders.
Be empowered to expand your perspective on reaching all students with varied cultures, language backgrounds, and life experiences while you learn how all students learn best in a school setting. Plus, explore extensive research and the practical application of culturally responsive teaching strategies and best practices.

Gain the foundational theory and research, as well as proven, practical strategies to enhance instruction for all learners. Examine the linguistic, social, emotional, and academic systems in school communities and how to develop culturally relevant curriculums.
As an educator, your understanding of students with mental health issues can have a lasting impact on their learning and development. The mental health certificate* provides you with a deeper understanding and current information related to mental health practices. You'll be equipped with the tools to implement diverse strategies and maximize resources — creating a positive learning environment for students in need to reach their full potential.

By focusing on this crucial issue, you'll better understand students' social and emotional issues and become well-versed in developing intervention strategies. You'll be empowered to advocate for your students by sharing skills and strategies with colleagues and school leaders.

*Saint Mary's Mental Health in Education certificate program is not designed or intended to prepare for professional licensure or certification for any mental health position, such as a school counselor, school psychologist, or child psychologist, in any state or U.S. territory.
Saint Mary's partners with eduCATE-WI to offer graduate-level courses. EduCATE-WI is a private, nonprofit organization offering coursework for alternate pathways to teacher and administrative licensure in Wisconsin. EduCATE-WI is approved by the Wisconsin Department of Public Instruction (DPI).

With this partnership and dual enrollment, you're eligible to apply up to 12 eduCATE Wisconsin credits to the 30-credit M.A. in Education degree program at Saint Mary's. Choose additional designated courses to complete a 15-credit specialization before completing the 15 core credits for the M.A. in Education degree.
The M.A. in Education program offers four distinct areas of teaching for current teachers to effectively lead classrooms or schools. Our fully online program prepares you for the role of leader, innovator, and teacher for today and tomorrow.
Start Dates
Online – August,
March
What Makes It Special
Choose From Four Curriculum Specializations: Curriculum and Instruction, Culturally Responsive Teaching, Mental Health in Education, Customized Specialization (for edu-CATE Wisconsin students)

Digital badges offered upon completion of the Curriculum and Instruction, Culturally Responsive Teaching, or the Mental Health in Education content specializations
What You'll Learn
Child growth and development supporting students' growth

Curriculum, instruction, and assessment design and differentiation

Instructional strategies to manage classrooms

Effective assessments and analyze assessment data

Studies and design research to improve educational practice

Ethics and laws to guide relationships and decision making
Education is our pillar.
For over a century, Saint Mary's has educated the next generation of teachers and leaders. With its strong reputation in preparing highly skilled teachers and administrators, the School of Education offers initial teaching licensure programs, graduate programs for practicing teachers, and a doctoral program in educational leadership.
The Online Student Experience
Our online programs are virtual in name only. You'll have the same level of support and community engagement that has made Saint Mary's.
When you change the world, share it
Share your achievements with your professional network and social connections using our digital badging. The badges for the M.A. in Education degree program showcase your accomplishments for completing courses in this program, and the value of your relevant skills and professional knowledge.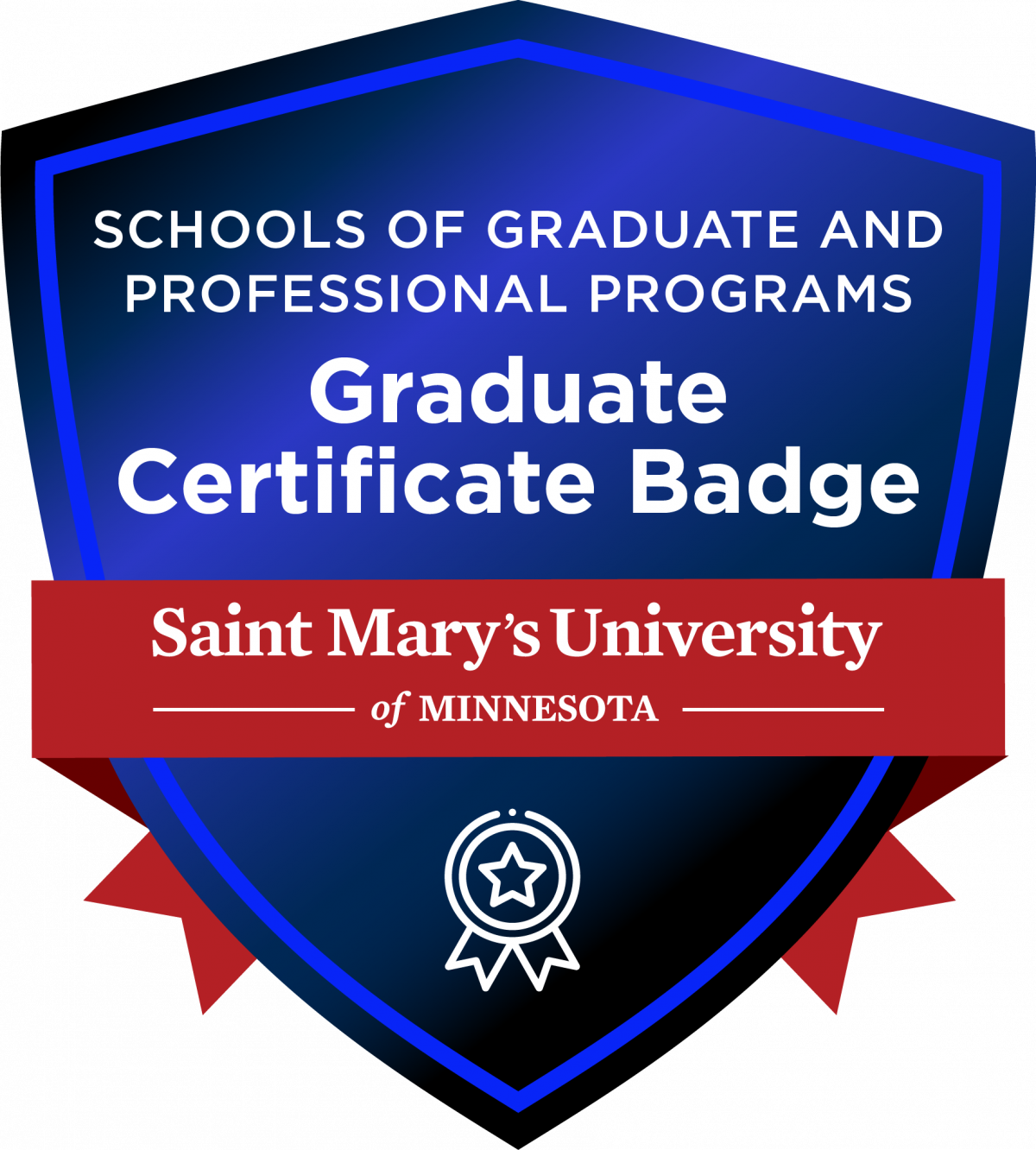 Career Outlook
Empower your students — and your future. Graduates of the M.A. in Education program are prepared to tackle the challenges of today's classrooms. A master's degree in education can also help advance your career as an education director at a museum, support staff in an ECFE setting, or as a current administrator or teacher in a non-traditional school community.

Principal

$98,420 per year*

Superintendent

$96,910 per year*

Instructional Coordinator

$63,740 per year*

Corporate Trainer

$120,130 per year *

This module doesn't exist.