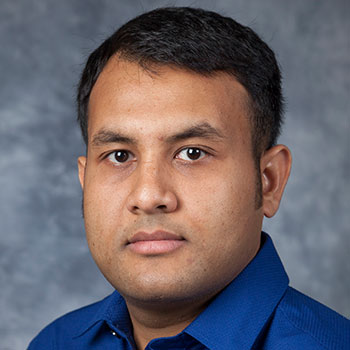 Farhad Bari will join Saint Mary's University as an assistant professor of mathematics, computer science, and physics on Monday, Aug. 23.
Bari brings more than 10 years of industry-level software and website development experience in addition to his previous teaching experience at the University of the People in Pasadena, Calif., and Winona State University. He's eager to provide a quality education and prepare his students for the future by bringing his industry expertise into the classroom.
Bari has worked as a software developer at Fastenal Company in Winona since 2010. He is proud to be part of the Fortune 500 company working with the warehouse management team while pursuing his passion for teaching.
"I have been teaching for Winona State University for four years, and after finishing my daily software development job, I still feel super energetic in front of my class talking about computers and technologies," said Bari. "I bring industry-level problems and solutions into my class and help them prepare for real-world challenges."
Another passion of Bari's is "good coding approaches." He explains, "Many people will know how to write code, but few will know how to write a better one. And better code is all about using less memory and running faster." Examples he cited include small devices like smartphones, smart washing machines, car smart screens, etc. These, he said, may have small memory and slow processors, so it is important to have the right apps with capabilities to run faster in these environments.
"During my software development profession, each time I wrote new code, my team reviewed the code and discussed making it better and faster," Bari said. "Having this experience helped me become a better coder, and now I can apply this knowledge and experience into my classroom and help my students write better code."
Bari received his bachelor's degree in computer science from Winona State University and his master's degree in computer science from the University of Illinois. His technical and programming skills are extensive; he has also designed and developed course content on artificial intelligence and Java.
"Often, faculty stick with the same book, same syllabus, and same old technology. But working for a tech industry always helped me keep up with the new technologies. Having this attitude will help me learn new technology and pass it on to my students," said Bari, who said teaching provides him with inner peace. "I am looking forward to growing my teaching career and helping the department to grow simultaneously."
Teaching philosophy
Bari's teaching philosophy stems from these two quotes:
"I've learned that people will forget what you said, people will forget what you did, but people will never forget how you made them feel." –Maya Angelou
"I never teach my pupils, I only attempt to provide the conditions in which they can learn." –Albert Einstein
The two Lasallian core principles that stand out to him most because they align with his teaching philosophy are:
Quality education
Inclusive community
Learn more about the mathematics, computer science, and physics department.