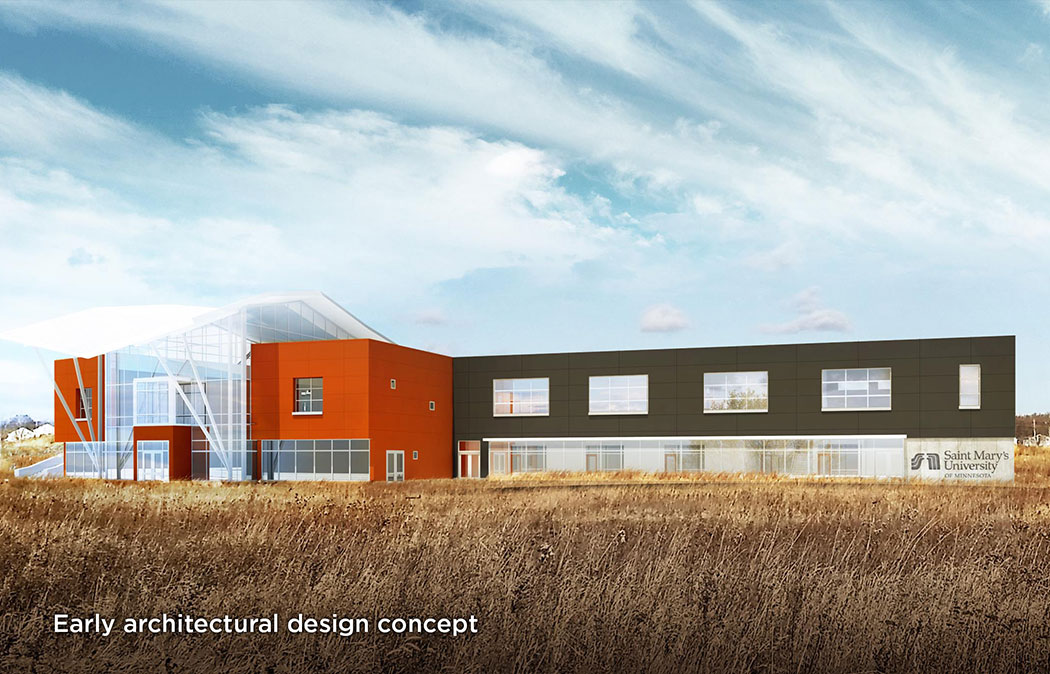 ROCHESTER, Minn. — Saint Mary's University of Minnesota will conduct a ribbon cutting and dedication of the 10,000-square-foot expansion of its Cascade Meadow Wetlands and Environmental Science Center at 11 a.m. Thursday, May 24.
This expansion will house the graduate portion of a new 3+2 Physician Assistant Program, a collaboration between Saint Mary's University of Minnesota and Mayo Clinic's School of Health Sciences, which is being developed to meet future patient needs in the area.
"This addition, made possible through the generosity of longtime supporters Jack and Mary Ann Remick of Rochester, allows us to expand our Rochester presence, which includes the addition of the new 3+2 Physician Assistant Program," said Brother William Mann, president of Saint Mary's University. "This program, which we anticipate starting in fall 2019, will greatly benefit our students who will be given the exceptional opportunity to learn from world renowned physicians and educators at Mayo. We are excited to welcome these talented young minds, who will one day help to fill the national need for primary physicians, particularly in rural areas."
Students successfully completing the program will earn a bachelor's degree from Saint Mary's University of Minnesota or the University of Minnesota Rochester, and a master of health sciences degree in physician assistant studies from Mayo Clinic School of Health Sciences.
Beginning July 2, at the start of the university's second summer term, the Cascade Meadow expansion will also house all of the university's growing Schools of Graduate and Professional Programs in Rochester. Saint Mary's has had an educational presence in Rochester since 1985 and currently offers bachelor's, master's, and doctoral degrees in Rochester including:
Business and Technology
B.S. Business Administration
B.S. Human Resource Management
M.A. Management
M.A. Organizational Leadership
M.B.A. (Master's in Business Administration)
M.S. in Project Management
M.A. Human Development
Education
ED.S. Educational Administration
Ed.D. Leadership
M.A. English as a Second Language
M.A. Instruction
M.A. Literacy Education
Graduate Certificate: K-12 Reading
Professional Development Initiatives
Health and Human Services
B.S. Healthcare and Human Services Management
M.A. Counseling and Psychological Services
M.A. Health and Human Services Administration
DLR Group has served as the architect of the project, and McGough Construction has served as general contractor. R.S.V.P.s for the ribbon cutting are requested by May 17 to smumn.edu/cmopen.
Open house May 24 at Cascade Meadow
An open house is also scheduled for the day of the dedication from 4:30 to 7 p.m. Everyone is invited to attend the open house and see the new facility, but especially individuals who are interested in pursuing bachelor's degree completion or advanced degrees offered in Rochester. Light appetizers will be provided, and admissions staff will be on hand to answer questions about how you can reach your next step. Register online at smumn.edu/gradinfosession.
For more information on the open house or courses offered in Rochester, call 507-285-1410, email rochcenter@smumn.edu or visit smumn.edu/rochester.